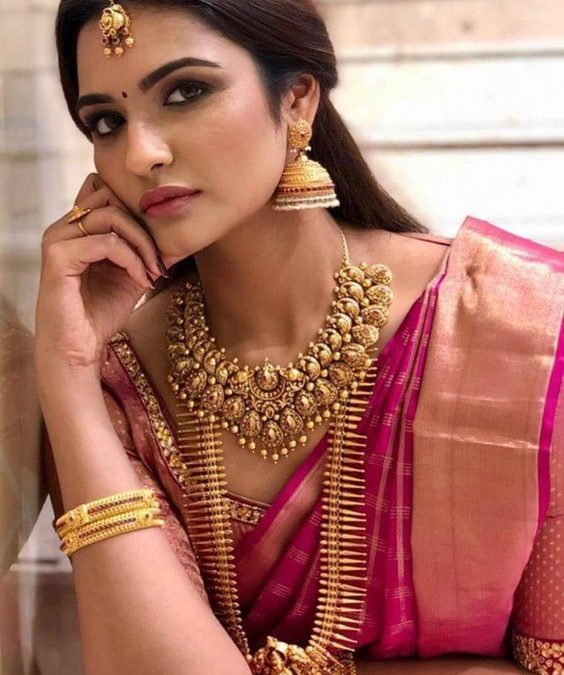 South Indian Jewellery Ideas For Brides – Weddings are one of the most significant milestones in a woman's life and an amazing chance to look her absolute best on such an important occasion. You're only given this one chance in your entire lifetime to showcase all your hard work with flawless makeup application and elegant attire for such an important day! Therefore, tradition dictates that brides on their special day wear stunning and alluring jewellery pieces to make an impactful statement about who they are as individuals and representatives of South Indian culture.
South Indian brides can find many different kinds of beautiful Jewellery designs available that they can try on for size on this important day. Most South Indian brides opt for sarees, half sarees or lehengas when selecting their attire for their wedding ceremony. When it comes to selecting jewellery to complement these garments, here is a list of some of the most beautiful kinds of South Indian bridal jewellery options that could help guide your decision-making process.
Temple Jewellery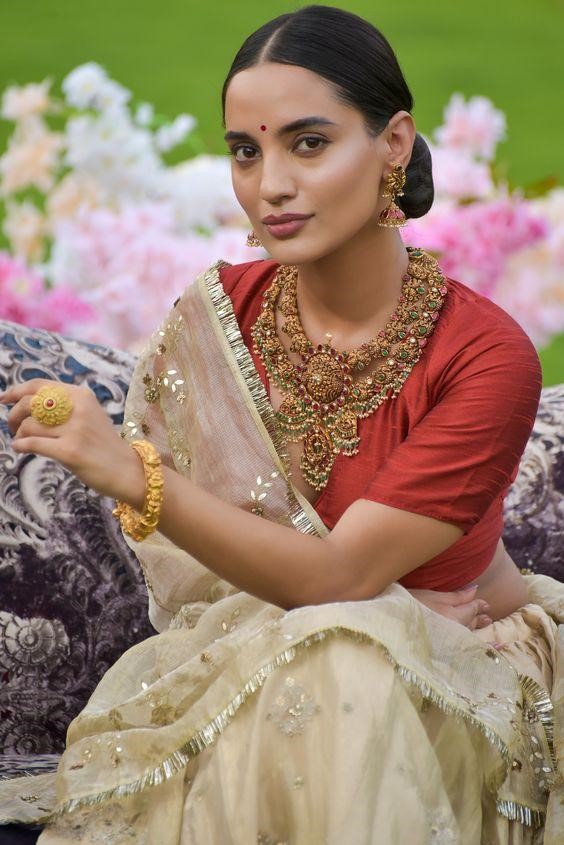 Temple Jewellery has quickly become a trend in South India. Inspired by devotional and religious engravings in its temples, temple jewellery serves as an impressive display of Indian culture – beauty meets divinity in one stunning piece! Temple jewellery is usually made out of gold to show both spirituality and luxury simultaneously – perfect for anyone wanting a traditional yet luxurious wedding, staying connected to both roots and God!
Beautiful Gold Jewellery
If intricate motifs and engravings don't suit your taste, simple gold jewellery might be your answer. They have smoother surfaces with no engravings to get in the way when wearing. Therefore, gold jewellery with minimalistic motifs and designs is a popular choice among those seeking something classic but modern at once.
Mesmerizing Kempu Jewellery
If you want to experience the joy of becoming a bride, Kempu Jewellery has just the perfect accessory to help. Their deep red colours exude passion and are decorated with stunning rubies encrusted on an intricate background; perfect for making you stand out. Symbolizing love and passion this color makes an impactful statement about who you are as an individual bride!
Marvellous Mango Haram Necklaces
So if you are in search of another long necklace made of gold with beautiful designs and motifs, the mango haram necklace may be just what you are searching for. Not only does this exquisite design extoll its own beauty while simultaneously showcasing Indian craftsmen's incredible talents in creating it; its intricate motifs and designs demonstrate the hard work that goes into producing these masterpieces of exquisite design which ultimately reflected in its ultimate beauty.
Creative Coin Jewellery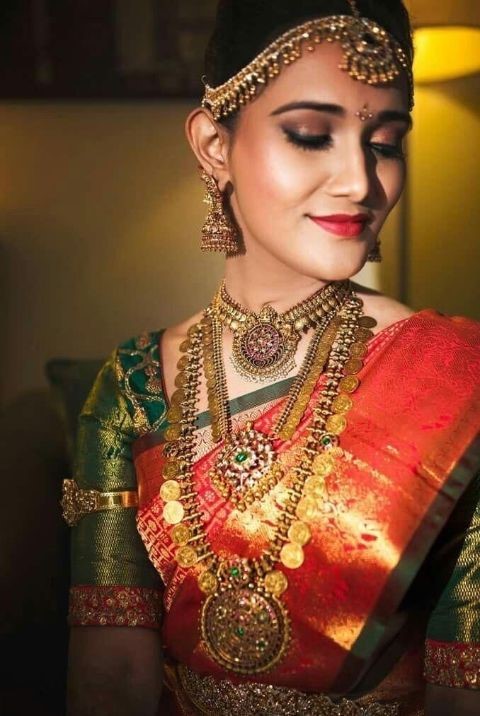 As you peruse South Indian jewellery designs, coin motifs will quickly become obvious. Women from South India prize them highly as symbols of wealth and blessings; coin necklaces feature prominently. Coin designs add an eye-catching pop of colour with their cultural relevance – perfect if you want a stunning addition to your wedding.
Vaddanam Belts
Vaddanams are elegant waist belts popular in South Indian bridal jewellery. Wearing one looks sensuous and elegant when worn with a saree; making this piece the ideal addition to your wedding trousseau. Vaddanams embody femininity while creating the ideal image of each individual woman wearing them.
Mangalsutra
As a bride when discussing bridal jewellery, one cannot forget about the all-important mangalsutra. With such an abundance of designs across South India's states and designs available to brides when choosing this necklace for their wedding, brides have many choices as to the type they would like – Lakshmi Kasu or Naga pendant are amongst many possible choices depending on personal beliefs and culture of origin.
Find The Latest South Indian Jewellery From Mirraw
Now that you've had an opportunity to discover South Indian Jewellery, it is time to add them to your collection – Mirraw is an ideal platform for this, offering not only an abundance of designs and prices – from affordable designs up to more costly pieces – as well as free shipping! So come enjoy browsing Mirraw. Happy shopping.