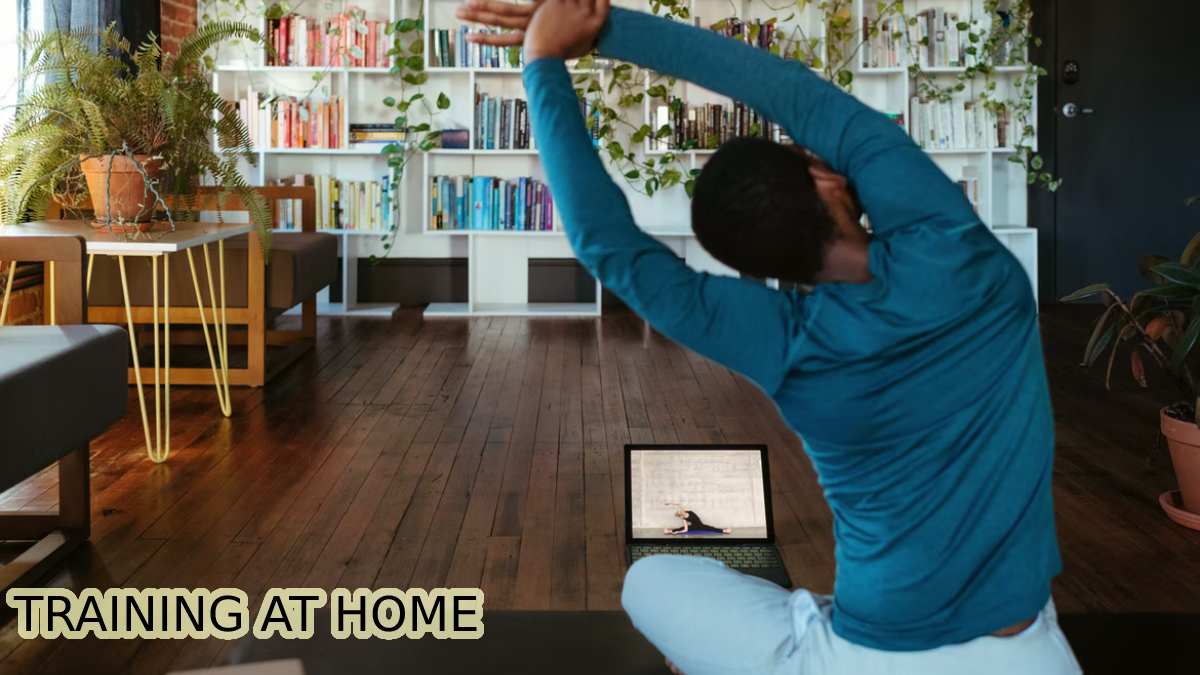 TRAINING AT HOME – Despite the closure of the gyms, we have all (or almost) continued physical activity during this period. Although training at home has become a natural routine, it is essential to be careful not to neglect specific elementary rules to avoid injuries and not come close to catastrophe. 
ARE THERE MORE RISKS WHEN TRAINING AT HOME?
"It's not that there are more risks; however, we lose our bearings because we're not in the environment where we normally practice. We all have our little habits during workouts, whether athletes who train with weights or members who come to gyms to keep up. Some may disturb by this change in the environment. And then, there is also the fact that the trainer is not physically present to correct movements or postures during the exercises. The real "risk" is to stop all physical activity."
WHAT ARE THE SAFETY RULES TO RESPECT?
"No matter what activity you do, it is essential to make space in the place where you are going to practice (this is important to avoid breaking the floor or breaking the TV during a workout). These are things that seem obvious but can cause an accident. Therefore, you should be careful about the things around you.
You can put a mat on the floor to prevent falls or put the weights without scratching the floor. And it's not because you're at home that you shouldn't put on the right sneakers. It is essential to work safely (especially with the team), and then it will also make you feel more comfortable during training."
WHAT ARE THE REFLEXES TO ADOPT TO AVOID INJURIES?
"The reflexes have to be the same as when you are in the gym or home. What you should be careful about is heating. He must be a part of your workouts. First, you have to ask yourself what you want to exercise, what muscles will work, etc. For example, if the objective is to strengthen the lower body, the whole body should be warmed up, specifically the target muscles, knee joints, ankles, and hips.
We start slowly with a few sets of bodyweight and continue with the body of the session. If the training is a little more cardio, we take care of raising the temperature a little with a little jog or clown jumps. Injuries, especially muscle ones, happen mostly when you haven't warmed up enough or haven't recovered enough between sets. Then we can also do our session in front of a mirror. In the gym, we usually invite members to look in the mirror to become aware of the position they adopt. So if you have a mirror available, don't hesitate to look at yourself. This will allow you to visualize your posture better and correct yourself if necessary.
WHAT KIND OF ACTIVITIES DO YOU RECOMMEND TO THOSE WHO ARE STARTING SPORTS AT HOME OR WHO ARE AFRAID OF GETTING INJURED?
"I advise starting with basic exercises or those they already do in the gym because they know the movement perfectly. Trying out new activities also means running the risk of performing the exercise poorly and injuring yourself. It would shame to get injured just before the gyms reopen. On the other hand, if the activity you want to try is easy to do, you can try it—no problem for those who are more experienced and fully aware of their bodies.
In this way, I would say that it is essential to focus on exercises with body weight. There are many options available, and you can follow the routines that the trainers do from the Instagram of each gym".
WHAT LAST ADVICE COULD YOU GIVE TO OUR PARTNERS?
"The warm-up is the most important thing. For those who are not sure how to do it, feel free to watch the live videos made on the Instagram accounts of our gyms, where the trainers usually start with a warm-up. This will usually warm up all the muscles and get the machine going.
It is also essential to stay hydrated during and after training. This is essential for the body to recover well and be in good shape for the next session. Let's also not forget to have the proper attire: good shoes and clothes that allow the movements to be free and can perform better. Beyond that, putting on your clothes before you work out will help keep you motivated.
Finally, I recommend that members not hesitate to contact their coaches through social networks to ensure that they do not get injured while playing sports. If they have questions about exercises, doubts about how to perform a movement, the trainers are available even during this period to guide them."