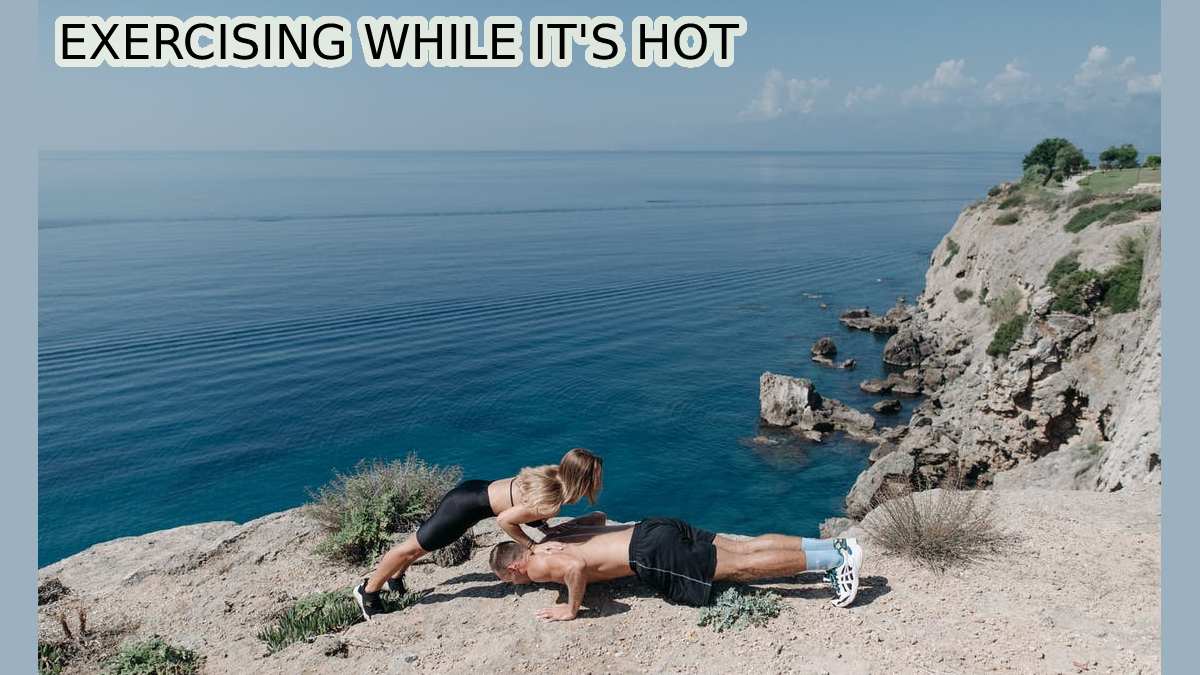 EXERCISING WHILE IT'S HOT – On these hot days, we understand your desire to take advantage of the day doing outdoor activities such as running, cycling, soccer, tennis, etc… Although the days are perfect and pleasant, you have to remember that the hotter it is, the more difficult it is to maintain the usual training rhythm. Here we give you some tips so you can train in summer.
ADAPT TRAINING ACCORDING TO OUTSIDE FOR EXERCISING WHILE IT'S HOT
TEMPERATURE
If you are sensitive to heat, you should train in the morning or night when the sun goes down. Similarly, people are advised to avoid training between 12:00 and 4:00 p.m. because the sun is more robust. If you expose yourself during these hours, you can get sunstroke.  This happens when the body has problems regulating its body temperature and can cause certain effects such as dizziness, disorientation, headache, among others. In addition, it is advisable to limit all physical activity above 27°C to avoid heatstroke.
PRECAUTIONS TO TAKE INTO ACCOUNT
Although it is recommended not to wait until you feel dehydrated to drink water, it is advisable to hydrate regularly and even more so when very high temperatures. In addition, diet, clothing, and recovery should be thought of according to the weather.
HYDRATE EVEN MORE
It is recommended to hydrate every 10 to 15 minutes with small sips during your sports activity. We tend to drink the coldest drink when we want to cool down. However, too cold water can cause stomach pain and, therefore, discomfort during training. If you train for more than an hour, you may prefer isotonic drinks. Do not neglect hydration at all times of the day to provide your body with a sufficient intake of fluids. Classic mistake: waiting until thirsty to drink. The daily recommendation is to drink 2L of water per person. However, it is pretty normal to drink 5-6 liters a day, depending on your training. A small tip to improve recovery, add a pinch of salt and syrup to your thermos.
A DIET ADAPTED TO HIGH TEMPERATURES EXERCISING WHILE IT'S HOT
When it's hot, our appetite tends to decrease. So we tend to eat less during meals and eat more throughout the day. However, our body needs the same amount of resources and energy to exert itself during training, not just any food.  When you go to train, you should bring some snacks (cereal bars, compotes, etc…) to supply the lack of energy that you may experience with the heat. However, these snacks cannot replace your daily meals. Remember that you need to maintain a varied and balanced diet to stay fit and healthy. Avoid especially those that are very fatty and take time to digest. Also, take regular breaks to lower your body temperature, catch your breath, and be exceptionally hydrated. After training, if a cold beer catches your eye, don't tempted. You were consuming alcohol after a workout is counterproductive and dehydrates you.
ADAPT THE CLOTHING
Clothing is a point that should not be overlooked when training in hot weather. Choose light, loose fabrics in light colors. The dry-fit material is breathable, ideal for wicking away sweat and keeping you dry. Clothing that is too thick will cause you to lose too much water and retain work. To avoid sunstroke, protect your head with a hat and wear sunglasses suitable for your activity. You can wear a wristband that you can then soak in water to cool down your head to cool down. Even if your plan is not to tan, sunscreen is essential when playing sports outdoors.
A SHOWER TO COOL OFF
At the end of your workout, wait 15-20 minutes before taking a shower to avoid any heat shock. When showering, wash with lukewarm water (around 30°C); this will help lower your body temperature. And for optimal recovery, you can end your shower with freezing water for 2 minutes. Many studies show that cold therapy promotes muscle recovery and increases performance.
THE ACTIVITIES THAT YOU CAN PRIVILEGE EXERCISING WHILE IT'S HOT
Finding a suitable sport for the heat is not always easy. For beginners, the practice of sports that require a measured effort is recommended. Ideally, focus on 30-minute workouts. It is best to take care of yourself and not exhaust yourself with high temperatures. If you do an activity indoors, ventilate the room or turn on the air conditioner.
OUTSIDE ACTIVITIES…
One of the sports especially adapted to the heat is swimming. Ideal for cooling off, you can do lengths without the risk of putting yourself in danger. Many water activities are available to you: aqua biking, aqua gym, and aqua stretch. Even if it's hot and you want to go swimming quickly, remember to take a shower first to avoid any risk of hydrocution (thermal differential shock). Walking is also a suitable sport in hot climates, as long as it is in the morning or night. If you do it in the morning, this will wake up all the muscles in your body. You will be ready to start your day in the best possible way. Another sport that you can do outdoors is golf, and it does not require intense effort. If you do it in summer, make sure you apply a sunscreen product,
AND INSIDE…
You can exercise in a heated room without the risk of getting sunstroke. By training at a reduced intensity, you will maintain your sports routine. We invite you to come to our l'Orange Bleue gyms so you can train more quickly and can continue working on your flexibility, resistance, and cardio. It will always be more challenging to return to the sport than to maintain regular training.
Now that you know all our tips for training in hot temperatures, it's all up to you to take good care of yourself to continue exercising and having fun.