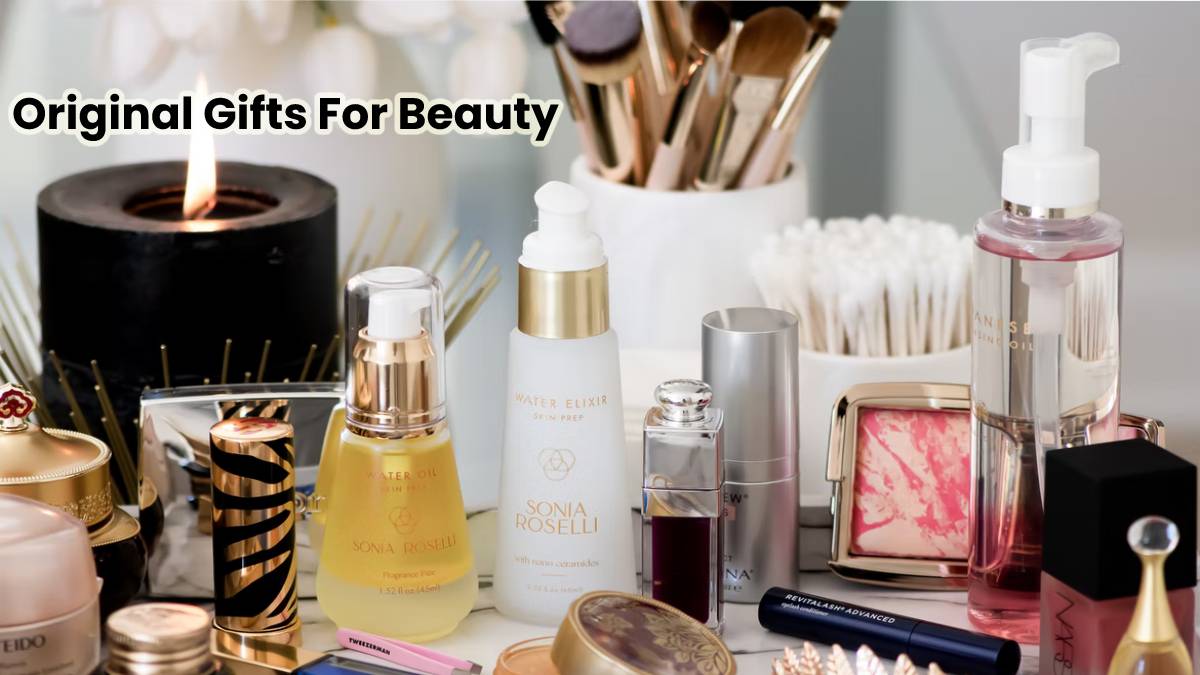 Original Gifts For Beauty And Personal Care
If you are looking forward to that special gift for beauty and personal care of your partners,  surprise your mother, make your father smile or give joy to the teenager in the family, take a look at this list of the best beauty and personal care gadgets, I'm sure it will help you choose the right option. There are many original gifts for different prices and techno beauty items; indeed, you can find one that fits well for that family member you want to give a stylish touch to your seventies look.
This being the case, to get it right this year, we recommend you technological, original, practical gifts that, in addition, offer a plus in beauty and personal care.
1. GIVE BEAUTY WITH A BABYLISS CURL SECRET OPTIMUM C1600E AUTOMATIC CURLING IRON
If one day you want to change the style of your hair and put aside the hairstyle that accompanies you every day, there is nothing like using a fully automatic hair curler. Thanks to its Auto Curl technology, even people who have never dared to change their straight hair will be able to create perfect curls effortlessly, in total comfort. Of course, it will not be difficult for you to adjust the six temperature levels available to you.
Its format makes it essential to take on your trips or for that last-minute touch-up if you have an unexpected event that requires a look according to the occasion. Choose the style that best suits your features or the clothes of that day: from Brazilian wave to other more marked or a natural curl that will look like yours from birth.
2. REMINGTON ADVANCED COLOR PROTECT S8605 HAIR STRAIGHTENER
The rain of this cold season drives many long-haired people to desperation to keep their hair perfectly smooth and without signs of frizz. If this is the problem of your mother, father, girlfriend or boyfriend, what better than giving them this hair straightener as a surprise.
One detail that people who colour frequently will especially like is that its technology offers maximum colour protection so that it does not suffer each time used. As if that were not enough, its floating plates heat in just 15 seconds (something ideal for the life we ​​lead, especially in the morning) and have a special coating with Shea oil and UV filters
3. BELLISSIMA MY PRO-MAGIC STRAIGHT BRUSH PB11 100
Do you want to make an exceptional gift to someone with delicate hair? If you know, he would like to have it straight and shiny but dreads the heat of flat irons. Then a straightening brush is what you need. The Bellissima My Pro-Magic Straight Brush model incorporates Ion Technology, which hydrates and revitalizes the hair and its fibres.
In addition, the brush has a moisturizing and anti-frizz effect, which reduces static electricity. As easy as brushing your hair in the morning! And since it heats up in just a few seconds, in addition to beauty, you will also give them a little more time between the sheets.
4. AS A BEAUTY TREATMENT: LUNA 3 SONIC FACIAL CLEANSER WITH FOREO ANTI-AGING MASSAGER
If we are ready as far as hair is concerned, it's time to show off a great complexion. The first thing is never to forget to clean our face thoroughly, and here we have the perfect device, with a most original and fun design.
The Foreo Luna 3 model with an anti-ageing massager allows, thanks to its large head and longer filaments, to clean more of the skin surface gently and delicately. With its help, you can say goodbye to fat, dead cells or traces of makeup that may remain on your face. At the same time, it reduces the visibility of pores and leaves your skin ready for the rest of the cosmetics you will apply. Do you want more? Well, point out: that their massage routines work on the most delicate areas to firm the skin.
5. COBALT BLUE FOREO SWORD PULSED LIGHT DEVICE
If you are looking for the surprise factor, you have it for sure with this original device. Carefully designed, the Foreo Espada is your best ally against acne thanks to its pulsed light technology, which sanitizes and purifies the skin to improve its health by reducing the accumulation of bacteria.
In addition to being very effective, this treatment has the advantage that it is not abrasive and will not cause you any pain. And, on top of that, it is valid for both girls and boys.
6. TREAT YOURSELF TO BEAUTY: ROWENTA LV7030F0 LIFT CONTOUR MASSAGER6. TREAT YOURSELF TO BEAUTY: ROWENTA LV7030F0 LIFT CONTOUR MASSAGER
Giving facial care products is also giving relaxation and health. Those moments in which we dedicate ourselves to special pampering, which make the skin dazzle… are not paid for with money. Who wouldn't love a facial massage device with proven results this holiday season? What if you give it to yourself? The Rowenta LV7030F0 Lift Contour Massager facial massager also sports a beautiful gold finish that makes it a little luxury.
Inspired by the massage techniques used by professionals, it helps reduce the signs of fatigue and the passage of time. To that person you love so much, nothing better than giving them moments of pleasure and dedication (and proven professional technology). The result: much cleaner, smoother, brighter skin with no signs of fatigue.
7. ORAL-B VITALITY 100 ELECTRIC TOOTHBRUSH
A perfect hairstyle, movie makeup and the best dress are useless if our teeth leave much to be desired. Comply with the mandatory dental hygiene routine and get this rechargeable electric toothbrush. Do not hesitate: give a "cinema" smile with Vitality 100 Oral-B.
The use of an electronic vibration system is more effective in removing tartar than the movement of a conventional toothbrush. Also, the brush incorporates a timer that alerts you when you have completed the cleaning time recommended by dentists. Once used, leave it on its base, and we will have it ready after each meal.
8. PHILIPS SONICARE PROTECTIVECLEAN ELECTRIC TOOTHBRUSH
We all dream of having a whiter and healthier smile. What was once only achieved with professional treatment is now within our reach with the Philips Sonicare ProtectiveClean electric toothbrush technology. It will be a little ally that whitens teeth in just one week!
Its sleek matte black design makes it as attractive as it is powerful. It offers three modes and intensities that allow you to personalize the brushing experience, choosing between cleaning, whitening and gum care or combining them for an entirely "pro" result. Didn't know what to give him this holiday season? Well, don't hesitate: with this brush, you will succeed, yes
9. BRAUN SILK-ÉPIL BEAUTY SET 9/985 DELUXE 7IN1 EPILATOR
We are not at the best time to show off our legs, but that does not mean that we always have them ready and without a trace of hair. To do this, what better than giving us this luxury kit that will guarantee the best hair removal for your entire body.
Moreover, apart from removing hair from legs and other body parts, this set is responsible for exfoliating, trimming, toning, cleansing, and applying creams and makeup. Furthermore, it is waterproof, so you can use it without problems while you shower.
10. THE ULTIMATE BEAUTY GIFT: PHILIPS LUMEA ADVANCED PULSED LIGHT EPILATOR
For them and them. If you are looking forward to removing that hair from your face, body, and sensitive areas, your best asset is this Philips laser epilator capable of reducing it by up to 85% thanks to its pulsed light treatments.
Applied regularly on your skin, this device helps keep the dermis utterly smooth on the face, legs, armpits, groin, stomach and arms. All this is most comfortable and practically possible. A great solution if you want to reduce visits to the beauty salon.